News
21 August 2018

Star gymnast Beth Tweddle opens Aberdeen's new performance centre

Tweddle, 33, who was Great Britain's first female gymnast to win medals at the European Championships, World Championships and Olympic Games, arrived in the Granite City yesterday morning.

Young athletes gained the opportunity to meet the former Olympian when she opened the new Gymnastic Performance Centre at the Alex Collie Sports Centre in Bridge of Don.

Despite a delayed flight from Manchester, Tweddle was still full of energy during her second visit to Aberdeen.

She said: "It is really nice to be back and see the passion of the gymnasts and the clubs – they now have a great facility up here.

"These guys are so lucky to have somewhere like this to practise and be inspired.

"We saw a great display of routines at the start of the day and I hope the younger athletes are inspired to continue their gymnastics career."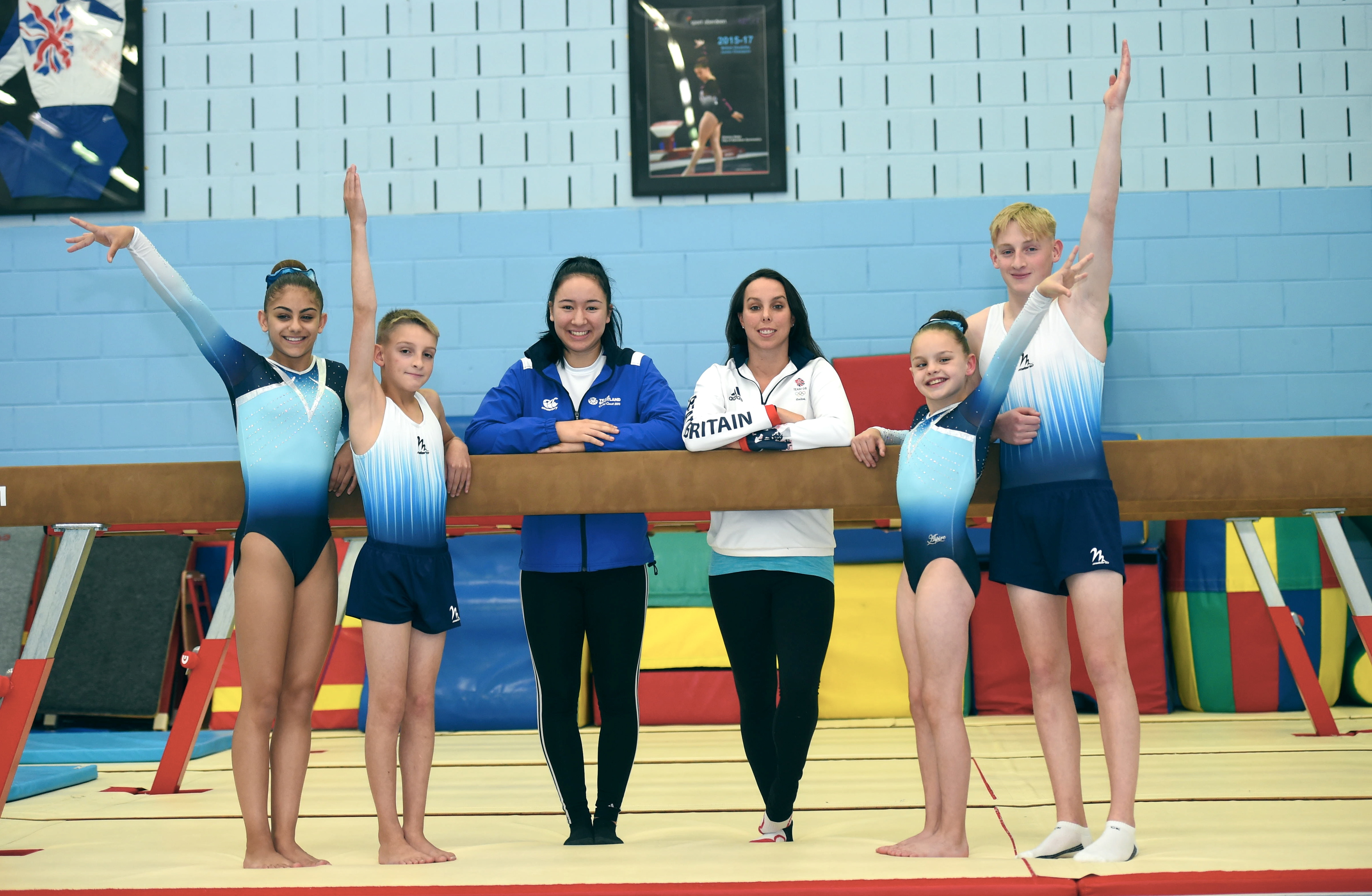 Pictured from left, Kirsty Fowler,14, MacKenzie Reid, 11, Izzy Tolometti, Team Captain, Scotland Women's Artistic Gymnastics, 2018 Commonwealth Games ,Beth Tweddle MBE, Olympic, World and European medallist, Lexi Walker, 11 and Innes Reid, 16. Picture by HEATHER FOWLIE
After a display by members of City of Aberdeen Gymnastics Club (COGC), Tweddle posed for photos and delivered workshops with coaches and Izzy Tolometti, a gymnast from Inverurie.
Steve Paige, head of development at Scottish Gymnastics, said it was a "privilege" to attend the opening ceremony.
He added: "The new centre will allow young gymnasts to work alongside Olympic gymnasts in the same facility which is fantastic.
"I think that Aberdeen has great potential for increasing participation in gymnastics."
During the workshops, Tweddle highlighted that when she was a child, there were very few British gymnasts to look up to – her idols were the likes of runners, Kelly Holmes and Paula Radcliffe.
But for many of the gymnasts at the sports centre yesterday, Tweddle had been their inspiration throughout their gymnastic career.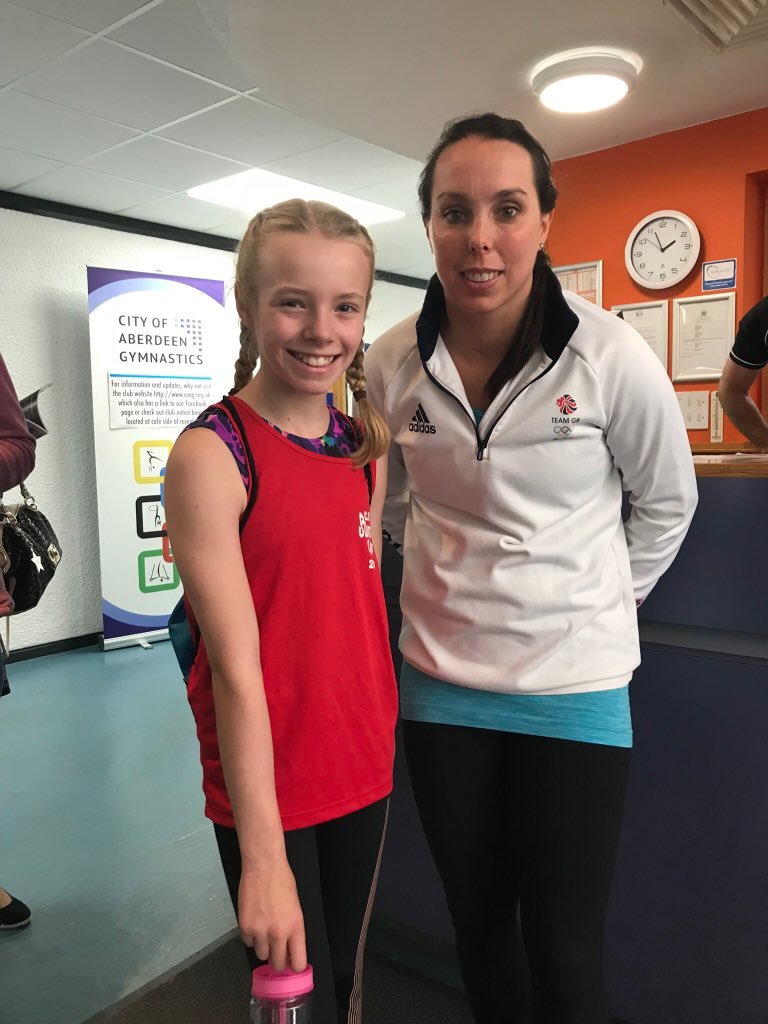 Miya Ritchie with her 'inspiration'
Miya Ritchie, from Blackdog, took part in the former Olympian's afternoon workshops.
Tweddle had been Miya's "inspiration" since she started gymnastics five years ago.
The 11-year-old, a member of the City Aberdeen Gymnastics Club, described the session as "really good."
She said: "We split into groups and got to try out all the equipment in the centre.
"I got my photo taken with Beth, and she was really helpful and answered everyone's questions."
Lexi Walker, 11, said it was "very cool" to perform a routine in front of the Tweddle.
The young gymnast has an optical nerve disorder which affects her depth perception, but hasn't let it hold her back from following her passion.
She said: "It felt really good to be able to perform in front of Beth.
"I want to keep training here, and when I grow up, I would love to keep doing gymnastics and enter competitions.
"My goal is to let people know that they can achieve anything no matter what."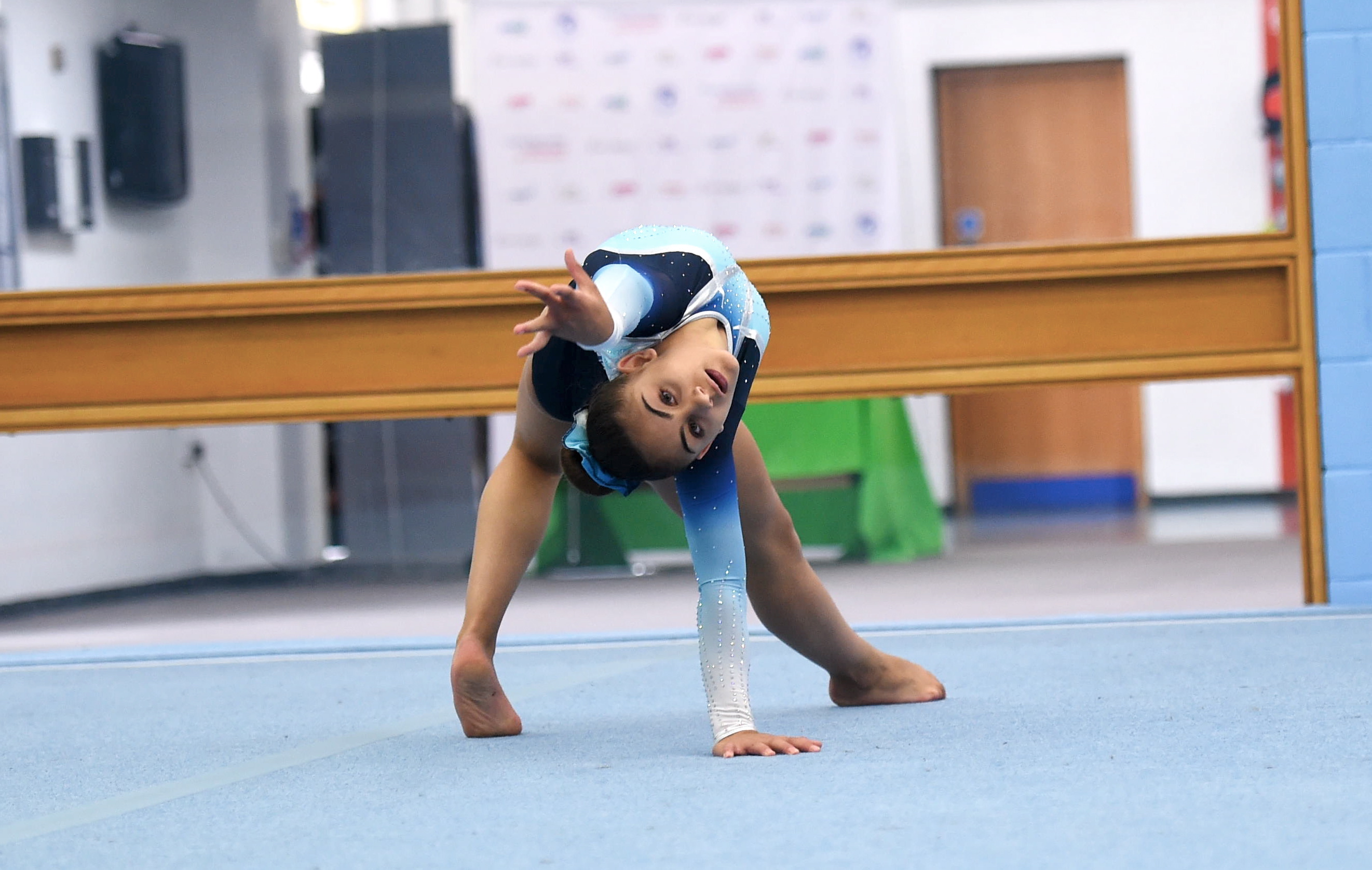 Kirsty Fowler,14.
Picture by HEATHER FOWLIE
Source: https://www.pressandjournal.co.uk/fp/news/aberdeen/1544717/star-gymnast-beth-tweddle-opens-aberdeens-new-performance-centre/